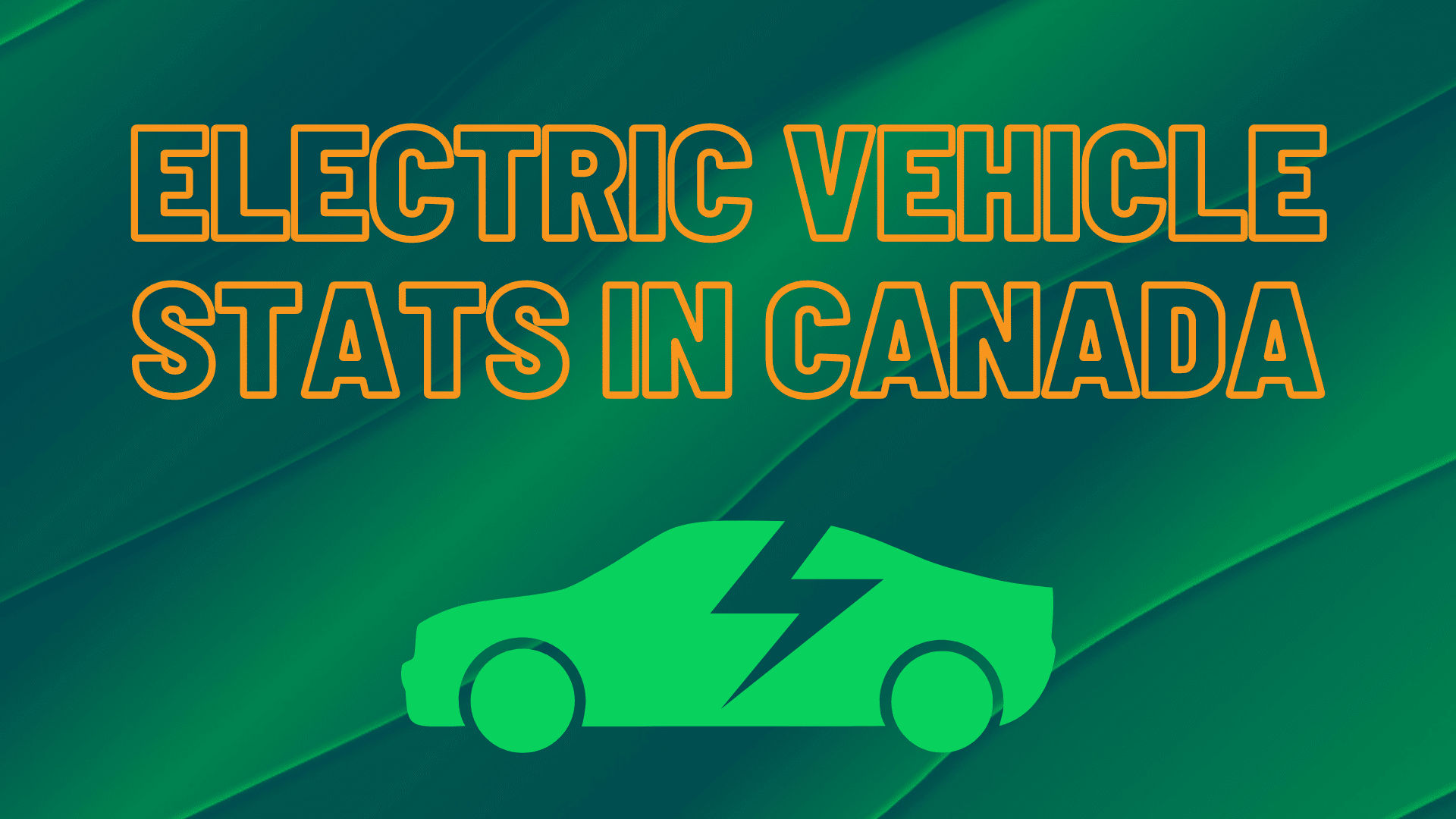 The electric vehicle industry has grown substantially across the globe. In Canada, electric vehicles have become more prominent on the road. This will be even more present in the coming years based on industry projections and the current pace of the energy transition, which includes a more electrified future. We at EnergyRates.ca have compiled a list of statistics on the EV industry in Canada.
Definitions and Abbreviations
Before we get into the statistics, here are the terms and abbreviations used in this article:
Electric Vehicle (EV): Any vehicle primarily fuelled by electricity. EVs are either battery electric vehicles (BEVs) or plug-in hybrid electric vehicles (PHEVs).
Battery electric vehicles (BEV): Powered solely by a rechargeable battery pack.
Plug-in hybrid vehicle (PHEV): Vehicles with a rechargeable battery pack and an internal combustion engine. They run on electric power until the battery is drained. The internal combustion engine then takes over propulsion.
Hybrid electric vehicle (HEV): Vehicles with a rechargeable battery pack, along with an internal combustion engine.
Zero-emission vehicles (ZEVs): any vehicle that does not emit C02. This term is often used to refer to all-electric vehicles.
GHG: greenhouse gas emissions
ICE: Internal combustion engine. They are often used to refer to gas-powered vehicles.
General Statistics
A record number of electric vehicles were registered in Canada in 2021: 86,032 in total. That accounted for 5.3% of total vehicle registrations for that year.
In the first half of 2022, electric vehicle sales in Canada grew by one-third.
In 2022, EV sales in Canada hit a six-month record, with nearly 56,000 units sold. This is a 35% increase compared to 2021.
In Q3 2022, all provinces and territories (except Prince Edward Island) saw double-digit increases in ZEV registration.
In Q4 2022, Quebec had the most ZEV registrations with 12,153 new vehicles. Ontario came in second with 10,982 registrations, followed by B.C. with 7558 new registrations.
In Q1 of 2023, 30,533 new ZEVs (light and medium-duty only) were registered across Canada. From that total number, 23,774 were BEVs, and 6,759 were PHEVs. This represents 8.6% of the market share, down from the previous two quarters.
According to a report by J.D. Power, EV consideration in Canada in 2023 is significantly behind that of the U.S. The report found that overall EV consideration in Canada declined 13 percentage points to 34% from 47% in 2022. In the U.S., 61% of consumers say they are either "very likely" or "somewhat likely" to consider buying an EV.
Drivers of the EV market in Canada include increased demand for fuel-efficient, low-emission, high-performance vehicles and stricter laws and regulations on the phase-out of ICEs.
ZEV production can potentially create many jobs in the automotive industry in Canada. Increased ZEV production could create 474,000 jobs.
About $11.7 billion in fuel savings can be achieved for drivers if, by 2030, all new cars and SUVs, and 75-80% of all new trucks sold in Canada are electric.
The Incentives for Zero-Emission Vehicles (iZEV) Program offers point-of-sale incentives for consumers looking to buy a ZEV. Consumers can receive up to $5,000 for purchasing or leasing a ZEV. For more information on the iZEV program and other incentives, click here.
While the EV market in Canada continues to grow, it falls behind those of China, Europe, and the U.S., which account for roughly 95% of global EV sales.
A barrier for many Canadians to purchasing an EV is their expensive price tag compared to ICE vehicles.
Electric Vehicle Registration by Province
The following are the EV registration market share percentages by province for 2022. The data was sourced from S&P Global:
Electric Vehicle Charging Statistics
The Canadian government has pledged over $1 billion to build 84,000 EV charging stations over the next four years.
Overall, it is cheaper to recharge an EV than it is to refuel a gas-powered vehicle. To learn more about the costs of EV charging, click here.
As of September 20, 2023, EV drivers have access to 20,478 charging ports located at 9,952 public charging stations located across Canada. This includes Level 1, Level 2, and DC Fast charging types.
The total annual load growth due to EV charging has the potential to be:

20.4 TWh in 2030
104 TWh by 2040
156.5 TWh by 2050

Wholesale system planners believe the vulnerability level associated with EV load growth will be relatively low. Instead, they see EV growth as a business opportunity. The EV charging load can provide additional revenue and act as a catalyst to improve the load factor of the system.
However, a 2022 report by the Canadian Climate Institute states that Canada's electricity generation capacity will need to grow to meet the demand for EV charging. For example, many suburban areas only support slower Level 1 charging. This prevents EV drivers from upgrading to the faster Level 2 charging (the power lines on the street will be unable to handle the increased load).
Many power distributors stated that they see a higher degree of vulnerability to EV charging at the distribution system level rather than at the transmission/wholesale level.
Some new EV models come with bidirectional charging, which feeds power back to the grid as needed. This can help relieve the strain on provincial grids.
To meet EV charging demand, the Canadian Climate Institute says Canada needs to connect inter-provincial and territorial grids so electricity can be shared. Renewable energy generation will also help meet increased demand, doubling or tripling capacity.
Electric Vehicles and Greenhouse Gas Emissions
Canada's 2021 GHG emissions were 670 megatonnes of carbon dioxide equivalent (Mt C02 eq).
In 2021, the transport sector was the second largest source of GHG emissions at 150 Mt C02 eq. This accounted for 22% of total national emissions.
From 1990-2021, GHG emissions from the transport sector have ticked upward. Emissions from passenger cars, however, have trended downward.
According to the Canadian Public Health Association (CPHA), ZEVs emit 34-98% fewer GHGs than gasoline and diesel-fuelled vehicles. This of course depends on the generation source.
The CPHA also states that Canadian GHG emissions could be reduced by 63 million tonnes (Mt) if all new cars and SUVs and 75-80% of all new trucks sold by 2030 were electric. This reduction represents one-third of all GHG emissions from the Canadian transportation sector.
According to Natural Resources Canada, ZEVs can help reduce 519,000 tonnes of greenhouse gas emissions per year or 6.2 million tonnes over the vehicles' lifetime.
Electric Vehicle Cost Comparison
A common belief held by many consumers is that ZEVs are more expensive than gas-powered vehicles. It is true that the upfront cost of an EV is higher than a traditional car, as mentioned earlier. However, research from Clean Energy Canada indicates EVs are cheaper/more affordable than their gas counterparts over eight years of ownership and when driving 20,000 km a year. To highlight the affordability of ZEVs, we have compared the cost of an EV and gas-powered model over one year of ownership. In calculating the final cost of the electric vehicle, we factored in the iZEV program.