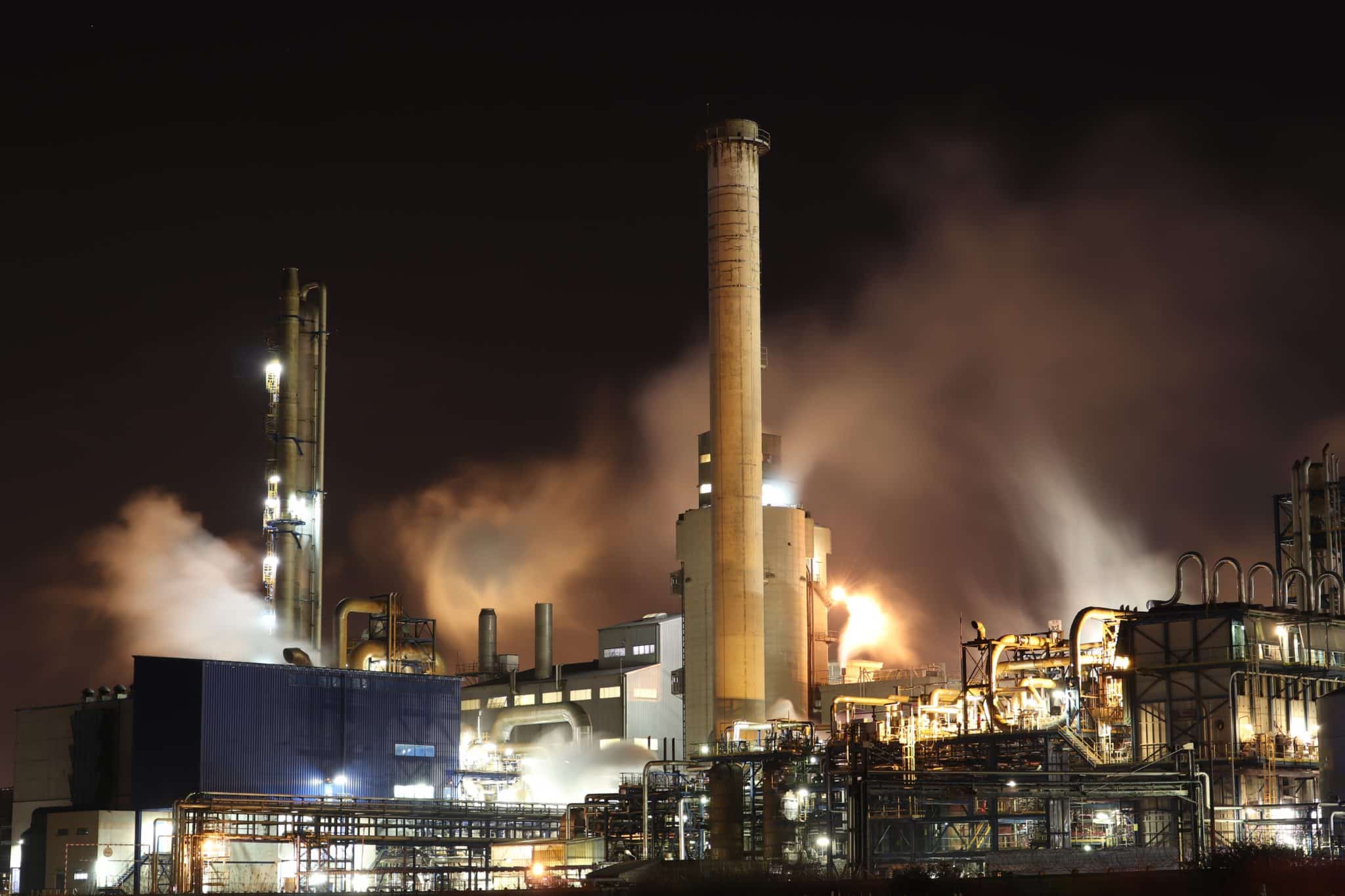 Carbon capture and storage
As of June 2nd 2020, the Alberta Carbon Trunk Line (ACTL) system is now fully operational. For those who don't know, the Alberta Carbon Trunk Line made the news in 2020 as 'the world's newest integrated, large-scale carbon capture, utilization and storage (CCUS/CCS) system.' The project's purpose is to reduce Alberta's carbon emission problems and to revitalize the oil industry in Alberta.
This new technology's capacity for CO2 represents around 20 percent of all current oilsands emissions, according to an article from the CBC. To put things into perspective, the Alberta CO2 emissions equivalent (CO2e) for the oil and gas sector was 137.1 megatonnes (MT) in 2017, according to the Canada Energy Regulator (CER).
To find out more about carbon capture technology, carbon capture examples and current carbon capture and storage projects in Canada, check this complete guide.
What is CO2?
CO2 (carbon dioxide) is a colourless gas and a natural substance necessary for life. Plants, for example, require it for photosynthesis. We use carbon dioxide in several things, such as carbonated beverages, fire extinguishers and refrigerants.
However, CO2 is also a greenhouse gas and large amounts are emitted from burning fossil fuels. As such, CO2 contributes to global warming and, consequently, climate change.
Why is carbon capture and storage important?
First, let's start off with what carbon capture is. As defined by the Government of Canada, carbon capture is a process for reducing greenhouse gas emissions into the atmosphere via extracting CO2 from other gases in gas streams typically emitted from large industrial sources. Another form of carbon capture is removing carbon dioxide that's already in the air (carbon capture from air/direct air capture.)
Once the carbon dioxide is captured and compressed, it's transported via a pipeline to a storage site. From here, the CO2 can remain in permanent storage in an appropriate geological site/underground storage site, or it can be transported to oil fields to stimulate more oil production before being stored away.
So then, why is carbon capture and storage important? There are a few things to consider. According to the International CCS Knowledge Centre, CO2 is the greatest contributor to global warming. This is largely due to the fact that CO2 emissions are very long-lived in our atmosphere. According to the Intergovernmental Panel on Climate Change (IPCC) Fifth Assessment Report, 40% of CO2 emissions will remain in the atmosphere in 100 years, 20% after 1,000 years and 10% after 10,000 years. The carbon dioxide emitted today (and in the past) has long-lasting effects that will continue to affect global climate change even after several lifetimes.
Another question you may have is 'why should we invest in carbon capture and storage rather than renewable energy production or carbon offsets?' When it comes down to it, we don't have to choose just CCUS systems or just renewable energy alternatives – we can fund both and have both be part of a future with effective emissions management.
A key difference with carbon capture and storage is that it prevents CO2 from being emitted into the atmosphere in the first place. While carbon offsets make up for carbon dioxide emissions via reducing emissions elsewhere, it doesn't change the fact that there's still CO2 being emitted into the atmosphere at some point in the cycle.
One other thing to consider is the perpetual rising demand for electricity. According to the 2019 World Energy Outlook from the International Energy Agency (IEA), rising electricity demand was one of the main reasons why global CO2 emissions from the power sector reached a record high in 2018. Canada has abundant fossil fuel deposits that could fuel such demand. With carbon capture and storage systems, rising electricity demands could be met without compromising the global environment, according to Canada's CO2 Capture and Storage Technology Roadmap.
How does carbon capture work?
So, how does carbon capture technology work? According to an article from the CBC, there are 4 steps involved in the carbon sequestration process:
1. Capture – CO2 absorption occurs via solvents at a carbon capture plant before the carbon dioxide generated from burning carbon-emitting substances can be emitted from a smokestack. Or, carbon dioxide already in the air can be directly removed via direct air capture before being absorbed by solvents. The CO2 can later be separated out from the solvent and then compressed and liquified for transport. In the case of the Alberta Carbon Trunk Line, emissions are taken from the Redwater Fertilizer factory and the Sturgeon refinery near Edmonton to ageing oil reservoirs in central and southern Alberta.
2. Transport – Once the carbon dioxide is captured, it is pumped through a pipeline to where it will be used or stored. For the ACTL, the carbon dioxide will be pumped through the Enhance Energy CO2 pipeline.
3. Utilization – Captured carbon dioxide can be used to make new products such as soap, fuels, or concrete.
4. Storage – Generally, CO2 is injected deep underground into depleted oil and gas reservoirs. It can function to help recover extra oil from ageing wells. The CO2 is stored in microscopic spaces in porous rocks and a cap rock is placed on top to prevent any CO2 from leaking.
Carbon capture and storage: Advantages and disadvantages
As with everything, there are good and bad sides to carbon capture and storage. We've listed the pros and cons of carbon capture and storage below:
Pros
With direct air capture of carbon dioxide, you can directly counteract CO2 emissions and their effects by direct removal of CO2, rather than reducing future emissions. In whatever case, the Intergovernmental Panel on Climate Change (IPCC) has found that we require negative emissions technology (such as carbon capture and storage) if we are to limit global warming to 1.5˚C. While there will still be negative consequences with a 1.5˚C increase, a 2.0˚C increase result in a much worse result. For example, a 1.5˚C increase rather than a 2.0˚C increase would mean that 420 fewer people would be frequently exposed to heatwaves.
Developing carbon capture and storage technology could provide Canada with a large economic opportunity. As we mentioned earlier, rising electricity demand is a problem we face – especially in regions like Asia, Latin America and some parts of Africa. With Canada's abundant fossil fuel deposits combined with CCS technology, Canada could export energy to meet this demand without compromising the environment.
Cons
In comparison to other environmentally-friendly climate change solutions, carbon capture and storage is quite expensive. According to a 2018 study from Yale and Harvard researchers, fossil fuel facilities with carbon capture and storage technology cost between $43 – $95 USD per tonne of CO2. In comparison, onshore wind power and utility-scale solar power only cost between $25 – $29 USD per tonne of CO2.
When CO2 is injected and stored deep underground, the possibility of leakage needs to be considered. When leakage occurs, a concentrated amount of CO2 could be harmful to nearby people and livestock, according to a research article published in Frontiers of Energy Research.
Carbon capture and storage in Canada
In 2019, Carbon Engineering (a clean energy company based in Squamish, British Columbia was presented with a $25-million investment from the Government of Canada. Carbon Engineering focuses on developing technologies to extract carbon dioxide directly from the atmosphere which can be used to produce clean synthetic fuels.
Otherwise, there are currently 4 major carbon capture plants located in Canada.
Boundary Dam – This is a major carbon capture and storage project operated by SaskPower. Boundary Dam is a coal-fired power plant in Estevan, Saskatchewan retrofitted with CCS technology. This project began capturing carbon in October 2014 – currently, it captures 1 megatonne per annum of CO2 , according to the Canada Energy Regulator.
Quest – This is an oilsands project operated by Shell near Fort Saskatchewan. It started capturing carbon in 2015 – this project captures 1.2 megatonnes per annum of CO2 from oil sands upgrading processes.
Weyburn – This project captures carbon dioxide from a North Dakota coal gasification and power plant and transports it to the Weyburn oilfield in Saskatchewan.
Alberta Carbon Trunk Line – As we've mentioned earlier, the Alberta Carbon Trunk line pipes and stores carbon dioxide from the Sturgeon Refinery and the Agrium Fertilizer Plant. It has a capacity between 1.5 to 2.0 megatonnes per annum of CO2 per annum.
How much carbon dioxide does Canada produce?
Overall, Canada is the 10th largest emitter of greenhouse gases – according to an article from the CBC, Canada emits approximately 700 megatonnes of carbon dioxide per year.
Carbon capture and storage projects in Alberta
The main pipeline projects in Alberta for carbon capture and storage are the Quest Project managed by Shell as well as the Alberta Carbon Trunk Line project which is managed by Enhance Energy. In total, the Albertan government has committed $1.24 billion through to 2025 for these projects, which will help reduce greenhouse gas emissions by 2.76 million tonnes per year (equivalent to the annual emissions of 600,000 vehicles.)
You can find information on both projects under the 'Carbon capture and storage in Canada' section of this article. Another useful resource is the provincial page for Alberta's carbon capture and storage page.
Carbon capture in Saskatchewan
In Saskatchewan, the main carbon capture and storage project is Boundary Dam, which has received around $240 million in funding from the federal government.
In 2017, however, it was announced that SaskPower wouldn't be likely to recommend further carbon capture projects because of the high cost, according to an article from the CBC. In 2018, it was announced that Boundary Dam units 4 and 5 and wouldn't be retrofitted with carbon capture and storage technology and would be set to eventually shut down instead.
You can also find more information about this project under the 'Carbon capture and storage in Canada' section of this article.
Carbon capture and storage globally
According to the Global CCS Institute, there are 51 large scale CCS facilities globally – 19 in operation, 4 in construction and 28 in development. To date, more than 260 million tonnes of CO2 have been captured and safely stored globally.
You can see a timeline of the development of CCS facilities around the world since 1971 on the Global CCS Institute's site here.
Compare energy plans and other green energy initiatives
Now that you've read up on carbon capture in Canada and around the world, you may be thinking about how you can contribute to green energy initiatives while still staying within your allocated budget for energy.
EnergyRates.ca can help with that. We're a free and unbiased cost comparison tool that can help you find the best energy rates in your area.
Plus, EnergyRates.ca has several resources to help you learn more about energy retailers and their green energy plans, as well as green energy in general. For example, this page about ATCO lets you know about what plans they have in general and that their green energy plan for electricity lets you source your electricity from Alberta-based renewable energy sources.
As another example, you can learn more about renewable energy credits and certificates in Alberta and other provinces.
Residential, small business, small commercial, large commercial and industrial electricity and natural gas consumers can all use EnergyRates.ca to find the best energy rates in their area, regardless of if they're looking for green energy plans or not. Commercial energy consumers can also get a free quote based on their energy consumption and needs – we can provide you with a list of energy retailers that will meet your budget and sustainability requirements. Using EnergyRates.ca is easy – all you need to do is fill in the form above to get started.